The business process outsourcing (BPO) industry is rapidly expanding and offers numerous opportunities for professional development and career advancement.
Back-office outsourcing is an excellent place to start a career. This industry is versatile and flexible when it comes to job positions and benefits.
Here are some reasons why someone may choose a career in back-office:
BPO companies accept applications even with no prior job experience in the field.
Other industries have a more complicated recruiting process and criteria for applicants, and some companies require a lengthy line of tests and interviews that can last for days, and in some cases even weeks, whereas the BPO industry has a more simplified process. If you have excellent communication skills, are motivated to learn, and are willing to undergo some training, this is the perfect career choice for you!
Competitive salary packages and benefits
BPO companies are currently the highest-paying jobs in the market. Aside from this, being in the outsourcing business has other rewards such as: health insurance, bonuses, trainings, relax rooms, promotions etc…
Variety of tasks
Back-office outsourcing encompasses a wide range of tasks, such as data entry, customer service, IT services and accounting. This can provide individuals with the opportunity to work on a variety of projects and gain diverse skills.
Growth opportunities
The back-office outsourcing industry is constantly evolving and growing, and companies are always looking for skilled professionals. As the industry expands, there are likely to be opportunities for advancement and professional growth. In addition to professional rewards, you can benefit from this line of work in other areas as well such as communication skills, writing skills, time management and many more.
Flexibility
Many back-office outsourcing companies offer flexible working arrangements, such as the option to work from home. This can be a great option for individuals who value work-life balance.
Challenging work
Back-office outsourcing requires professionals to handle large amount of data, analyze the data and deliver high-quality work. This kind of work is challenging and can be quite satisfying.
Career development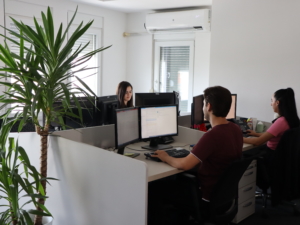 Back-office outsourcing can be a steppingstone to a broader career in a specific field, such as finance or business operations, this kind of experience is usually appreciated in the job market.
International exposure
Back-office outsourcing can provide employees with the opportunity to work with clients and colleagues from around the world. This can provide valuable cross-cultural experience and broaden professional networks.
Yes, like any career, back-office outsourcing has its own set of challenges, such as a high volume of work and the pressure of meeting deadlines. However, it can also be a rewarding field for those who are well-suited for it and can effectively manage these challenges.
Why choose Back Office at evroTarget as your next position?
Currently, we offer the highest paying salaries in the market. If you have decent German language skills, a determination to learn new things, and become a part of a company where you are valued, evroTarget is the place to be.
Other benefits include health insurance completely covered by the company, long-term contracts, a cooperative and fun team, relax room and a fixed schedule (Monday – Friday, 08:00 – 16:30).
Work at evroTarget and be treated with dignity!